Register on the form below to receive the Page Personnel Talent Trends Report via email
---
Singapore Salary Guide 2021
Traditionally a definitive salary guide, the Page Personnel Singapore yearly salary report details salaries in various industries, such as banking and finance, technology, healthcare and manufacturing. It aims to help recruiting managers and job seekers alike make informed employment decisions in Singapore. Given the COVID-19 crisis, we firmly believe that our annual salary guide needs to do a whole lot more.
The ongoing COVID-19 pandemic is unlike any global health crisis the world has ever seen. It not only has deep impacts on people's lives from a societal and health standpoint but the looming financial crisis that will affect everyone. While Singapore continues its relentless fight against the spread of the coronavirus, its economic outlook for 2021 remains uncertain. Therefore, we recognise that we have to consider the volatile nature of the ensuing economic disruption when it comes to producing our annual salary guide.
Enter Talent Trends 2021, a new report to help hiring managers plan salary budgets and job seekers to comprehend the new normal. While it will not provide specific salary numbers, you can expect insights into companies' remuneration strategies in Singapore. You can also expect topics that cover recruitment and hiring matters, such as digital readiness, talent attraction strategies, salary expectations, better hiring processes, and market sentiment for industries that have experienced disruptions in the past year. You would also find insights and advice from global leadership members as well as Page's consultants.
The data presented in this report comes from an extensive survey of 12 Asia Pacific markets, with responses from over 5,500 businesses and 21,000 employees; of which over 3,500 replies are from directors or CXOs.  
Singapore's Key Statistics
| | |
| --- | --- |
| 40% | of companies in Singapore are looking to increase their headcounts in 2021 |
| 56% | of those employed anticipate themselves looking for new job opportunities, while another 36% is passively open to new ones in 2021 |
| | |
| --- | --- |
| 1 in 10 | expects zero increase from their current salary on a new job offer |
Report Highlights
1. Future workplace trends

From our findings, learn about the top priorities for CXOs in 2021, key investment areas in technology and digital tools, employees' preferences on workplace flexibility, and performance assessment.

2. People-first strategies

From leadership communication to mental health matters, the report highlights the best people strategies to engage your employees.

3. Salaries and bonuses

Find out how your company's offer for new hires compare against competitors and expectations from job seekers.

4. Attracting and retaining top talent

Remuneration may be crucial, but it is not everything in talent attraction. Learn about the non-monetary aspects of attraction and retention strategy that job seekers value most.
Average salary increases in Singapore for potential new hires in 2021
| | |
| --- | --- |
| Functions | (%) |
| Banking & Financial Services | 10 - 15 |
| E-commerce / Internet | 10 - 12 |
| Fast Moving Consumer Goods (FMCG) | 7 - 12 |
| Healthcare & Life Sciences | 9 - 14 |
| Industrial & Manufacturing | 10 - 15 |
| Natural Resources & Energy | 8 - 13 |
| Professional Services | 4 - 9 |
| Property & Construction | 3 - 8 |
| Retail | 5 - 10 |
| Technology | 15 - 20 |
| Transport & Distribution | 6 - 11 |
Foreword from our Managing Director: Looking forward to the road to recovery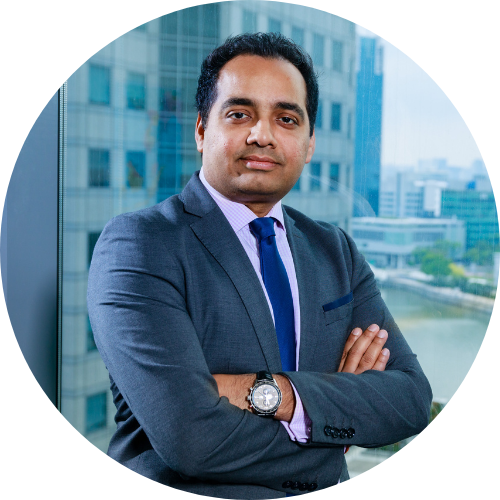 Nilay Khandelwal
Managing Director, Singapore
Our Singapore Talent Trends 2021 report reflects vital market insights for the following 12 months. As the economy recovers, investment into the market will flourish, and that would drive the demand for talent amid the business recovery climate.
Businesses had to implement digital practices, such as work-from-home arrangements, to maintain operations during Singapore's initial circuit breaker period, which has brought upon a surge of demand for technology professionals. This economic rebound has now extended across all crucial technology roles, as data engineers, cybersecurity and machine learning. There is also a rise in e-commerce roles.
Healthcare and life sciences have stood out as a recession-proof industry. We have seen a spike in value-add roles, such as regulatory affairs, quality assurance, scientists and, as of late, commercial roles. There is also a demand for cybersecurity roles, particularly for pharmaceutical companies, which certainly was not on the radar six months ago.
Contracting employment was not widespread and not seen as popular among job seekers before the COVID-19 outbreak, but it has now spiked, particularly across digital, procurement and technology, and is gradually becoming a regular hiring feature.
While companies want to hire the best talent, job seekers have also become more selective, looking for roles aligned with their values, despite the uncertainty in the job market. It is noteworthy that many businesses are thinking ahead. As the situation in Singapore improves steadily, some companies have a surge in opportunistic hires. Therefore, I remain cautiously optimistic – 2021 is looking promising.