Interviewing for your first graduate job? Not everyone is lucky enough to land their first job after interviewing with one company. But the good news is, you can improve your chances of getting the role you want at a company you like by blowing away the interviewers.
How? Preparation, preparation, preparation.
Here is our entry-level job search survival guide, featuring nine common graduate interview questions that you might get asked, along with additional tips to help you prepare for your job interview.
Related: 15 job interview mistakes to avoid
Common interview questions for fresh grads (sample answers included)
1. Tell me a bit about yourself
A lot of interviewers will cut to the chase and may not even ask you this. After all, they have already reviewed your resume and are now across your work experience and education history.
It's still best to prepare a brief statement that indicates what, in your recent past, has led you to be sitting in front of them in your interview. For example:
"I developed an interest in events management during my second year of university while I was on the student events committee. I'd love to utilise my degree as well as the skills I picked up while coordinating events. This role seems perfect for that because..."
2. Why do you want to work here?
This is a common job interview question that will require Googling ahead of time. Research the company prior to the interview so that you can communicate compellingly about why this is the organisation for you. It's all about value alignment. For example:
"I saw on your company blog that you partner with a lot of charities and organisations. Environmental issues are particularly close to my heart after taking a semester on it at university that had a big focus on corporate waste. When I looked at your competitors, it's clear that you are leading the way in your industry on this important topic."
Related: 5 things you need to know about starting a career in HR
3. How have you demonstrated leadership qualities at university?
This is known as a behavioural interview question (and comes in all shapes and sizes). The interviewer is encouraging you to use real-life examples of your own experience to see how you react and deal with different situations, in this case, taking the lead.
Consider group projects you've taken charge of while at university, as these are perfect examples of how you had to take the reins, make tough decisions and influence others in order to achieve success. For example:
"I was team leader for a four-week project at university. The role involved assessing my team's skills and attributes and coming up with a plan that meant everyone involved had to do a task they were good at but also enjoyed. There were a few glitches along the way, but I'm glad it wasn't all smooth sailing, otherwise I wouldn't have learnt how to deal with issues such as team conflict, tight deadlines and being put on the spot when a decision had to be made."
4. What are your strengths and weaknesses?
Although it might sound like a trick question, employers genuinely do want to know that you have enough self-awareness to realise you don't have every skill under the sun yet.
Always mention your weakness with how you plan to improve on it, that way, you are spending less time on a negative and focusing more on the positive, which is how you are looking to improve this under-developed area. For example:
"My time management skills were not the best in high school, but I've found that through completing my degree, I quickly learnt how to prioritise multiple tasks and meet tight deadlines. So it's something I want to keep working on when I'm in full-time employment."
Highlight your strengths that match up to the role requirements. If the job description calls for someone with great presentation skills, then tell your interviewer about a class presentation you delivered and the positive feedback you received from it.
Related: 8 guaranteed ways to stand out during the hiring process
5. Where do you want to be in five years' time?
If you're interviewing for a graduate scheme, the hiring manager might like to hear that you wish to be an established member of the team by then, and also help mentor future graduates who join the business by sharing your experience with them.
If not, it's okay to say you don't know exactly where you want to be, but try and have an idea around certain key areas of the role or department. For example:
"I know I want to learn X and X skills, which is why I'm so excited about this role and this company – I think I'll develop personally and professionally here. If I had to say exactly, I'd like to be in a position where I can make a positive change through contributing to decision making, as well as leading and inspiring a team. So that might mean stepping into a team leader role, before stepping into a senior management role."
6. What is your greatest achievement?
Similar to when you describe your strengths, use the selection criteria for the role – your greatest achievement should align with key role requirements from the job ad. For example:
"My team won a university sports challenge, despite one of us sustaining an injury on the day of the final game. I was really proud because we banded together and re-worked our strategy, taking home the winning title, even though we were one person short. It showed resilience and teamwork in the best ways possible."
Related: What it takes to be a successful secretary
7. Why should we hire you?
This is where you really need to sell yourself to the hiring manager. Tell them what you think you can bring to the team and be sure to mention the skills that are required – and potentially lacking since you can fill this gap. For example:
"What I lack in years of experience, I make up for in my ability to learn quickly when I'm really passionate about something. When I saw your job ad, and from talking to you about the role today, I know this job is something I would be passionate about and I'm confident I could add a lot of value to your team."
8. Are you a team player?
Of course, the answer is yes. But you need to explain how and why. For example:
"I like having the flexibility to handle projects alone as well as being part of a small or large team. I think the best part of teamwork is the inspiration element – there is always someone who has a great idea that you hadn't thought of if you always worked solo."
9. Do you have any questions for us?
Never say no to the opportunity of asking questions during the job interview. Even if the interviewer has covered all the points you wanted to query, ask them to go into more detail about one of the points they mentioned.
Use open questions that relate to strategy, challenges and culture. This is not the time to ask about salaries and benefits but the point in the job interview process to show the hiring manager that you have a keen interest in the role.
(For an entry-level role, a discussion about salary and benefits is usually done when the interviewer or recruiter offers you the job.)
Here are some examples:
5 questions to ask the hiring manager during your job interview
"What would you want to see me accomplish in the first six months?"
"How is the feedback process structured?"
"You mentioned that the role reports directly to you but there are other stakeholders. Would you mind letting me know a bit more about who they are and how that would work?"
"Is there anything I have said that makes you doubt I would be a great fit for this position?"
"Which part of the position has the steepest learning curve? What can I do in order to get up to speed quickly?"
Related: 15 ways to prepare and succeed at virtual job interviews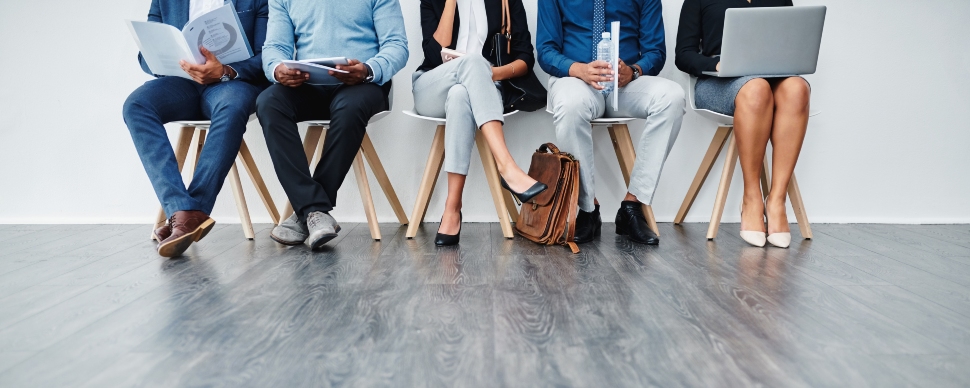 How to answer any interview question well
While there are an infinite number of tricky interview questions you could be asked to catch you off guard during a job interview, the vast majority will fall into three main groups: past, people, and personal.
Past
The 'past' simply refers to your previous experience. This includes examples of your achievements, qualifications and responsibilities that are relevant to the role, sector or organisation you're applying to.
People
The 'people' should include examples of how you influence and build relationships with superiors, peers, subordinates, customers or external stakeholders. Include some difficult situations in this section.
Personal
The 'personal' questions should include the things that make you unique. What are your values, qualities and drivers, and reasons they should hire you? Again, have specific examples that demonstrate these.
For each of these categories, think of about six specific examples that demonstrate your ability in those areas — six examples will give you enough range to vary your answers.
Related: How to write a follow-up email after a job interview
Use the S.T.A.R method
Now that you have 18 examples in total, structure them in your mind using the S.T.A.R. method. The S.T.A.R. structure helps you to provide a completed answer that is detailed enough but also concise.
Situation: What and who with?
Task: What did you have to do?
Action: What specific actions did you take over what time to overcome the situation?
Result: What were the qualitative and quantitative results?
When asked a question, decide whether it is predominantly related to your previous experience, influencing people or your personal attributes.
At times, the question may require you to overlap your answers — for example, how a personal trait helped to influence the people around you — so you would need to consider how some of your 18 examples can be related to each other.
Related: How to use the STAR technique to answer job interview questions
3 tips to nail your graduate job interview
Interview questions aside, overall job interview preparation for graduates is key to ensuring your first impression with a future employer is positive. You can improve your chances of job interview success with these interview tips.
1. Know the company well
When preparing for an interview, research the company you will be interviewing with. This is a vital step towards showing your commitment.
Have a thorough look at their website and social channels, plus use a search engine to find any news articles they have appeared in. What is their mission or vision? How did they begin and when? What are some of their major operational responsibilities?
Knowing the answer to these questions and being able to refer to them in an interview will impress any prospective employer.
If you want to go a step further, research key competitors and see where this company falls in the job market.
2. Target the job description
An employer advertising for a new position will provide a detailed job description in the advertisement. Make sure you memorise those key responsibilities and requirements for the role so that during the interview you can weave these in with your strengths, interest and experience.
This will go a long way towards proving your suitability and capacity for the role and demonstrates why you are the right candidate for the interview much faster than if they need to pull these answers out of you.
Being able to refer to their job description without prompting will also show the interviewer that you take the job interview seriously and have fully considered the details of the role.
Related: What to expect in your second interview
3. Practise makes perfect
Once you are familiar with the job description, you can often gauge the kinds of questions that will come up during an interview.
Rehearse answers, use a friend to stand in for the interviewer if you can, and know the main points you want to make and the past experience you want to showcase.
During the interview, you may be thrown some curveball questions to test how you perform on your feet, but many of the questions will also be industry-based. So make sure to tie in the job description prerequisites with your experience in previous roles where you have performed said tasks.
Being able to confidently answer questions while tying them back into the job you are applying for is key to impressing those responsible for deciding whether you are the right individual for the job.
Looking for graduate job opportunities? We're here to help you prepare for your next interview. Get in touch with Page Personnel consultants or submit your CV here.
Read:
10 key considerations for your CV
Salary negotiation email: Free templates
Interview questions for software engineers and tips to nail that job interview
Join over 60,000 readers!
Receive free advice to help give you a competitive edge in your career.